Transon this TSA1212 is a basic CNC Router machine for users in advertising industry and small production volumes. With the features of small working table, easy operation and good price, it is very popular in the markets. This 1212 mini Cnc Router can widely use to process small work pieces like acrylic, double color sheet, ABS material, wood, MDF, etc. for arts craft industry, decoration industry. Except 1200*1200mm size, we also have many other size CNC router for choice for advertising industry.
Parameters :
| | |
| --- | --- |
| Model | TSA1212 Wood CNC Router |
| XYZ axis travel Distance | 1250mmx1200mmx150mm |
| feeding height | 150mm |
| table size | 1400mmx1520mm |
| Spindle power | 2.2kw water cooling (0-24000RPM) |
| Rail type | Linear rails |
| Control system | Mach3 (USB port) |
| Drive type | Stepper |
| Transmit | Ballscrew |
| Table type | Aluminum profile T slot clamping |
| Max travel speed | 8000mm/min |
| Working precision | 0.05mm |
| Power | AC220V±10%/50~60Hz |
| Compatible Software | Type3/Artcam/UG/Pro-E/Mastercam/Ucancam etc |
| Command code | HPGL, G code |
| Machine/packing size | 1.61m*1.79m*1.32m/1.76m*1.93m*1.6m |
| Net / Gross weight | 500kg / 600kg |
Features of this 1212 cnc router:
1, Strong iron casting body, aluminum casting gantry, gantry moving type.
2, Standard 2.2KW water cooling spindle with high precise, less noise good cooling effect.
3, T-slat aluminum worktable with rubber on the top, easy clamp different materials.
4, PMT square rail guide and ball screw transmission way, high precision and smooth transmission.
Details photo:
1, T-slat aluminum worktable
The aluminum T-slot working table is fixed with fixtures to ensure that work piece will not shake during engraving. With the features of low cost and flexible method, it is suitable for work pieces with irregular shapes or difficult to fix work pieces. When processing technology, especially for relief, hollowing, cutting, aluminum T-slot working table is the best choice for users.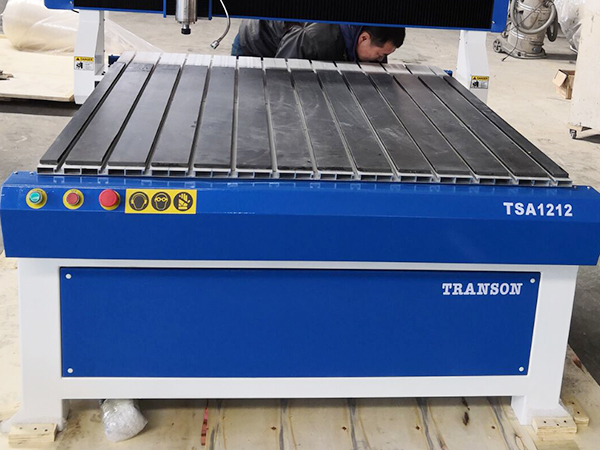 2, Water cooling spindle, standard 2.2KW, optional 3KW, 4.5KW, etc.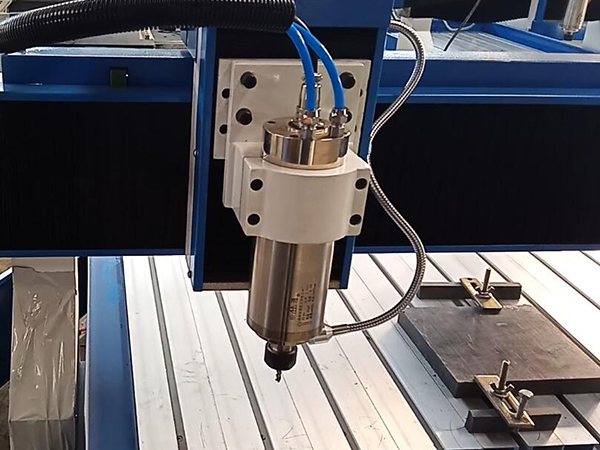 3, Mach 3-USB 3 axis control system, computer controlled, easy operate and cooperate with many other software.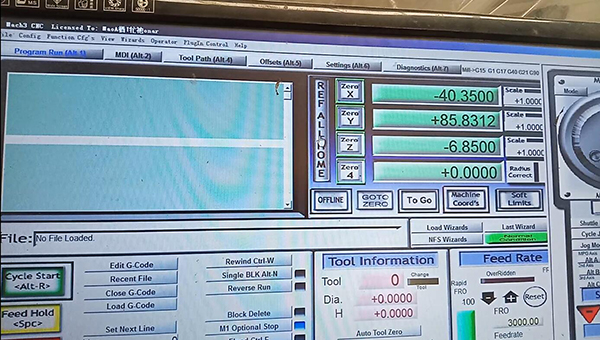 4, FULING inventer and Mach 3 control card, our wiring box are assembled by full experience engineers.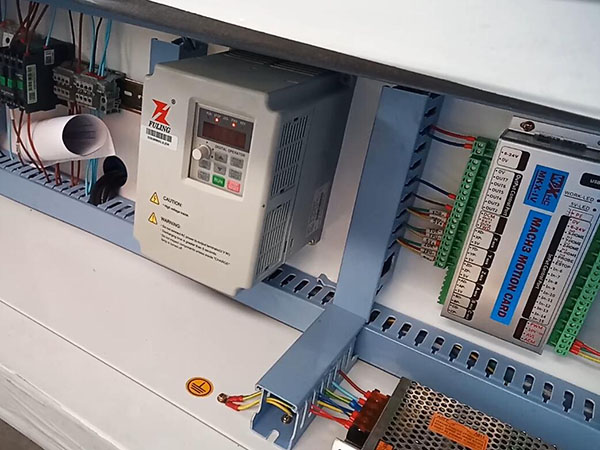 APPLICATION