Transon 20W mini portable Fiber Laser Marking Machine offers excellent laser beam quality with the latest technology. This 20W fiber laser marking machines is the smallest fiber Laser Marking Machine we produce. The fiber laser source and other wiring all under the worktable, its super mini design allow it mount on any desktop and easy move around.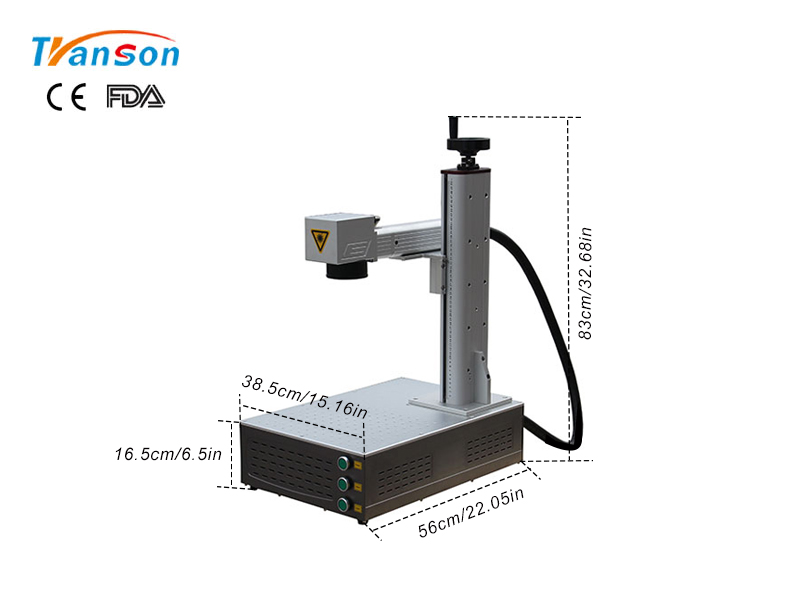 This fiber laser marker can used to mark logo, numbers, code, characters, letters and graphs on all metal material include rare metal, such as stainless steel, aluminum, silver, gold and so on, it can also mark on part nonmetal material, like plastic, leather, ABS, etc. As fiber laser beam is very thin and powerful, the machine can do non-contact high accuracy marking which will not destroy the surface of objects. We have enough Transon new super mini model fiber laser marking machine shell in stock, can ready to ship within 3-5 days.
Material Transon 20w mini fiber laser marker can mark or engrave:
1.Metal: Aluminum, silver, brass, copper, stainless steel, gold, iron, steel,Titanium,coating material, anodized or treated metal, etc.
2.Nonmetal: Hard plastic, rubber, marble, granite, ceramic, ABS, leather, electroplating materials, coating materials, epoxy,etc.
If you have any material not show above, you can send us to test free, we will send you test video and photos for confirm and find the most suitable parameter for you.
Features:
1, FDA Compliant, CE Certification, ISO9001 quality certification.
2, Fast, permanently, precise and smooth mark effect.
3, Wide application, can mark on all metal and part nonmetal material.
4, Fiber laser source 100,000 hours life span, almost no maintenance, different fiber laser source brand for choice, like Raycus, MAX, JPT, IPG, etc.
5, High speed galvanometer scan system
6, JCZ advanced control system
7,Standard 110x110mm working area, optional 70x70,200x200,300x300,400x400mm Field Lens.
8, Mini model easy transport, open table not limit material size like small enclosed units.
9, CNC model, connect to Win7, Win 8, Win 10 computer by USB cable.
10, EZCAD software compatible with other software like Photoshop, AutoCAD, Coredraw, etc. It support import files in different format: AI,PLT,DXF,DST,SVG,JPC,NC,G,BOT,GBR, BMP,JPG,JPEG,GIF,TGA,PNG,TIF,TIFF.
11, With inner and outer red dot pointer
12, With foot start pedal, free two hands.
13, Support add optional rotary device for mark on cylinder objects, rings, bracelets, etc.
APPLICATION