This 1325 ATC CNC Router standard with automatic tool changer spindle, good at 2D/3D wood carving and engraving.The spindle kit of this 1325 CNC Router is able to swing ±90 degrees, can meets the processing need of 3D and complex surface carving work.Can widely use in different material of wood, plastic, acrylic, MDF,etc.
Features:
1. 12 tools carousel ATC, fast and easy change of tools without stop machine.
2, Spindle 180 degree swing, able to do precise 3D wood craving work like door lock slot craving.
3, HSD 9KW air cooling spindle, fast craving speed, low cost, easy to use, and no maintenance.
Application of ATC CNC routers:
| | |
| --- | --- |
| Woodworking industry | Processing of three-dimensional wave board, cabinet doors, solid wood doors, craft wooden doors, paint-free doors, screens, craft window, and auxiliary processing of shoe polishers, game machine cabinets and panels, mahjong tables, computer tables and panel furniture. |
| Advertising industry | Advertising signage, logo making, acrylic cutting, plastic molding, and processing of various advertising materials and decorative products. |
| Mold industry | It can engrave copper, aluminum, iron and other metal molds, as well as artificial marble, sand and stone, plastic plates, PVC pipes, wooden boards and other non-metal molds. |
| Craft gift industry | It can carry out a variety of shadow carvings, reliefs, and widely used in crafts industry. |
Parameters:
| | |
| --- | --- |
| Model | TSW1325 |
| XYZ axis travel distance | 1300x2500x200mm |
| Feeding height | 250mm |
| Table size | 1300x2500mm |
| ATC tool type | 12 PCS carousel type |
| Spindle power | 9kw HSD air cooling |
| Rail type | linear rails XYZ 20mm |
| Control system | Syntec 6MB |
| Drive type | EASY servo |
| Transmit | X Y Oblique gear rack /Z ballscrew |
| Table type | Vacuum absorption with T slot clamping |
| Max travel speed | 300000mm/min |
| Working precision | 0.05mm |
| power | AC380V±10%/50~60Hz |
| Compatible Software | Type3/Artcam/UG/Pro-E/Mastercam/Ucancam etc |
| command code | HPGL, G code |
| Machine size | 3.25*2*1.62m |
| packing size | 3.36*2.13*1.86m |
| Net/Gross weight | 1600kg / 1800kg |
1325 ATC CNC router details:
1, 180 Degree Swing 9KW HSD Air Cooling Spindle
This Atc Cnc Router with Italian HSD air cooling spindle, which not only has the advantages of low cost, easy to use, and no maintenance. But also has extremely high reliability and a variety of power and speed options. A variety of options can meet the diverse processing needs of users. The pneumatic and electronic components used in the HSD spindle have undergone strict bipolar inspection to ensure the highest quality standards, thus also ensuring a long service life and high processing accuracy of the machine.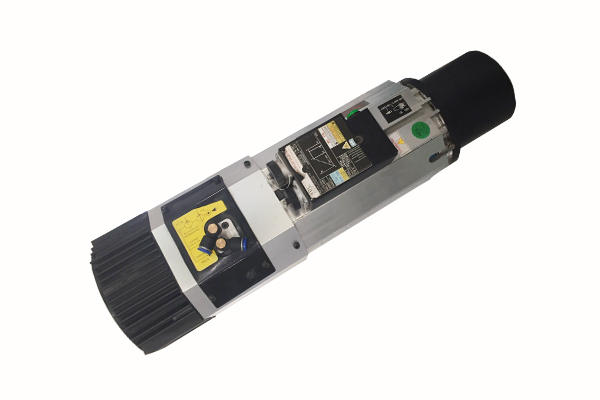 2, 12 Tools Carousel Type Auto Tool Changer

The disc magazine placed on the side of the gantry, there is no limited of the bumber of the tools, and has good stability. It also guarantees the processing accuracy of the machine and ensures that the ATC CNC Router Machine will be used for a long time, and processing accuracy is not affected.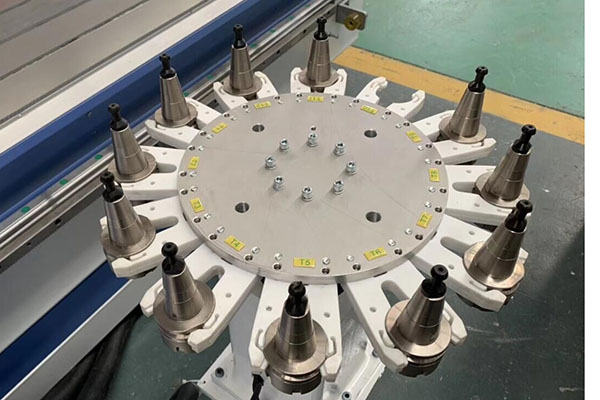 3,T-slat Aluminum Worktable
The T-slot aluminum working table is fixed with benting kits to ensure work piece is fix firm and no shake during craving. With the features of low cost and flexible method, it is suitable for work pieces with irregular shapes or difficult to fix work pieces. When processing technology, especially for relief, hollowing, cutting, aluminum T-slot working table is the best choice for users.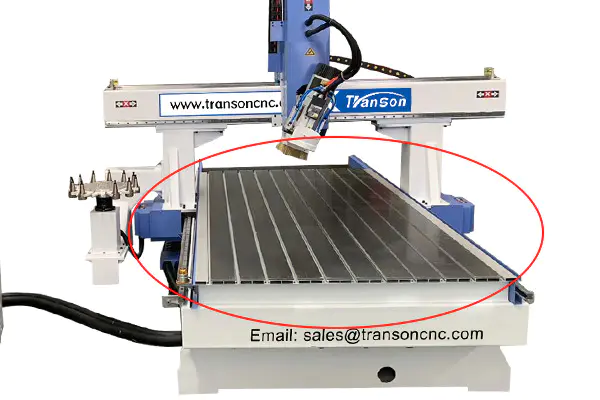 APPLICATION